The cleaning paste PS Universal is a real power pack for stubborn, crusted contaminations and dried in soilings on sensitive and durable surfaces.
A must-have for gentle deep cleansing. The PS Universal paste easily removes even the most stubborn dirt gently and intensively. Well suited for pre-treatment it is used as a pre-cleaner on surfaces to be protected leaving a pleasant fragrance. This universally applicable special cleaning agent from Permanon can handle severe organic soiling gently and down to the pores both indoors and outdoors. This product of Permanon can be ideally used as a pre-cleaner for cleaning heavy impurities in the whole line of Permanon, from Diamond, Aircraft, Pool & Spa over Boat and Yacht up to Car, Matt, and Solar.
Outstanding cleaning results on: 
high gloss coatings
synthetic leather
polished stainless steel
plastic and synthetic materials of all kinds except polycarbonate (can result in stress-induced cracking)
different kinds of metal
stone and tiles
The PS Universal paste is neither an abrasive nor harmful to the environment or human health. This universal cleaner optimizes in-depth cleaning in the way that it is biodegradable cleaning thoroughly and effectively.

The surface deeply cleaned into its capillary structure is now optimally prepared for the value-maintaining surface protection with Permanon Supershine products. This cleaning paste can be used for almost all materials with the exception of polycarbonate (can result in stress-induced cracking).

The PS Universal paste works against stubborn organic contamination, such as: oil and fuel residues, grease deposits, silicon accumulations, algae infestation, verdigris, black rain streaks, mold deposits, mould stains, ink,  markers and graffiti, exhaust and soot build-up.
---
---
Spring cleaning easy and fast with Permanon PS paste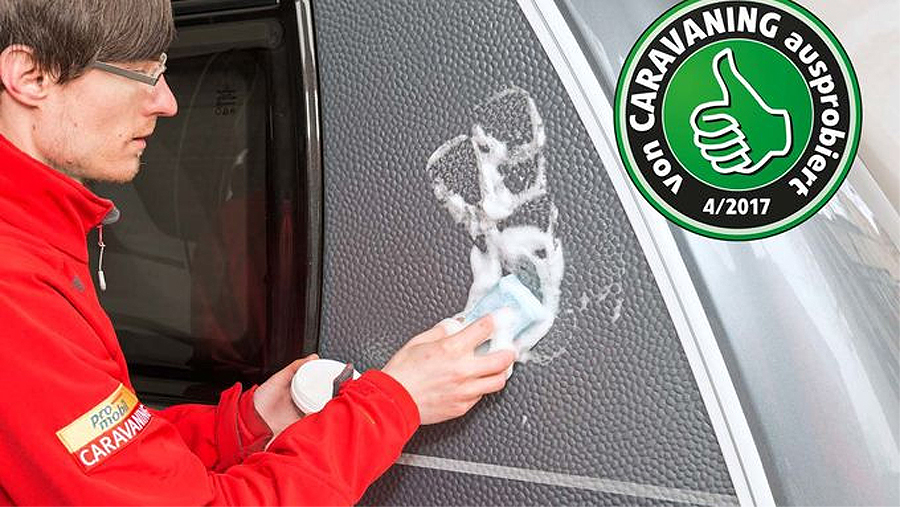 PS Universal paste from Permanon with sponge.
Europe's largest camping magazine from Germany, has tested our product the PS Universalpaste from Permanon and felt good.
Here is the article on caravaning.de.